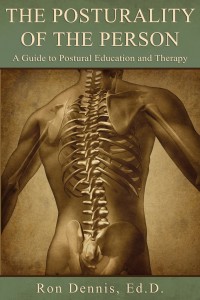 According to an authoritative review on Amazon.com, "Ron Dennis's The Posturality of the Person: A Guide to Postural Education and Therapy is a richly informative, marvelously short work that breaks significant ground in the practical art-science of human movement by formulating a new concept: posturality."
Soft Cover ~ 122 Pages ~ Many Illustrations ~ Only $7.95
From the Introduction

The purpose of this book is to inform you about posturality, a crucial aspect of individual and collective human being. Having worked professionally as a teacher in this area for almost 35 years, I am all too aware of the dearth of knowledge, both practical and theoretical, among lay people and professionals, about posturality. My students, most of whom come to me because they are in pain, tell me that they suspect that their posture is somehow connected with their problem, but that they don't know what to do about it. …  As to the unfamiliar term "posturality," Webster's New International Dictionary says that the suffix "-ity" indicates the state or quality of something—mentality, physicality, personality—thus posturality, the state or quality of one's posture.
Click here to learn more, and to purchase >>

---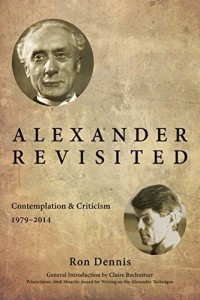 Alexander Revisited collects Ron Dennis's Alexandrian writings over 35 years, most of which were first published as articles in NASTAT/AmSAT News, along with several from a newsletter he produced on coming to Atlanta in 1990, and others that came along from academic and other Alexander literature.
Peer commentary:
This collection of Ron Dennis' writings is, to my mind, the great reward and gift to us all for his long-term and relentless commitment to clarity of thought in the Alexander Technique.
—Mona Sulzman, Certified Teacher, M.AmSAT (Member, American Society for the Alexander Technique)
Book I ~ Conceptual Foundations
Although the articles herein have been published separately, their appearance here where they can be read together and repeatedly—I suggest at least 2 or 3 times—does an inestimable service to the community of AT teachers.
—Bruce Kodish, PhD – author of Back Pain Solutions: How to Help Yourself with Posture-Movement Therapy and Education
Book II ~ Atlanta Alexander News Selections
These little pieces intended for the Alexander novice have lasting value, not only as precursors to his better known writing, but especially for the polished miniatures they are in themselves.
—Phyllis G. Richmond, Certified Teacher, M.AmSAT, Editor, AmSAT Journal
Book III ~ Technical Topics and Research
All in all, this little book (which is deceptively thin) (and delightfully readable) is a very rich and helpful collection of articles to help illuminate and question our understandings of what is happening when we are engaged in life.
—Robert Britton, Certified Teacher, M.AmSAT
From the General Introduction
The collection and organization of these pieces into a book not only makes them accessible to new readers, but brings to readers both new and old a special value that is decisively greater than the sum of its parts.
—Claire Rechnitzer, Certified Teacher, M.AmSAT
Alexander Revisited is available at Amazon.com.